Somerset Trust Company Celebrates Branch Opening
 FOR IMMEDIATE RELEASE                                                             December 4, 2020     
CONTACTS:
| | |
| --- | --- |
| Allison Hoffman | Brandy Ringler |
| Vice President and Marketing Officer | Regional Marketing Coordinator |
| 814-443-9277 | 814-485-6238 |
| ahoffman@somersettrust.com | bringler@somersettrust.com |
Somerset Trust Company Celebrates Branch Opening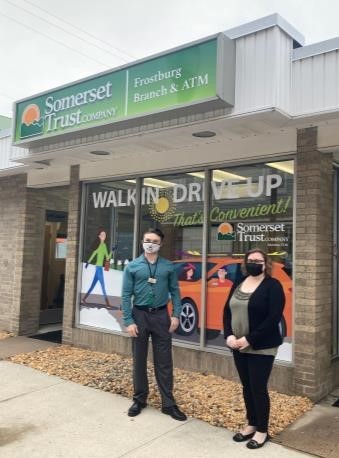 Somerset Trust Company is excited to announce the opening of its newest bank location in Frostburg, Maryland, today. This is Somerset Trust's 41st branch and second location in Maryland. This is also the first of two planned locations in Frostburg, with the second office slated to open in early 2021.
       Michael Miller will be the Branch Manager, leading a team of local, experienced banking professionals who are excited to bring convenient, community banking back to uptown Frostburg. They also share a true commitment to serving the community, and have already partnered with community organizations for local events celebrating holidays, supporting small businesses, and working with local schools.
      "We are delighted to be opening in Frostburg as we feel deeply connected to this community already," stated Chairman of the Board, G. Henry Cook. "The expansion of route 219 has made that connection even stronger, and we feel this is the kind of community where we can thrive because we want to be team members in helping individuals and businesses grow and prosper," he added. "Not to mention, this is where people in our area go to get their education. We have a number of Frostburg alumni working for Somerset
Trust, and we are proud to finally have a physical presence here."
       This full-service branch is conveniently located at 3 South Broadway, and offers two drive-thru lanes, 24/7 ATM access, a night drop, and an instant issue machine which prints debit cards on the spot for new accounts or to replace lost or damaged cards. Additionally, the drive-thru features an interactive teller machine or ITM, which provides both traditional ATM functionality, and also the option to speak through video chat with a local representative. We are also very excited to debut a new feature in branch banking at this location: SmartLockers. These secure boxes are accessible in the walk-up area and will allow contactless pick-up and drop-off of documents at all hours for customers.
       While industry trends show banks leaving communities like Frostburg, Somerset Trust remains committed to providing in-person service to meet all banking needs. We are following all safety guidelines related to the coronavirus pandemic and thank everyone for their patience and understanding as we will need to limit occupancy in the office.
       The branch and drive-thru hours are Monday through Thursday, 8:00 am to 5:00 pm, Friday 8:00 am to 6:30 pm and Saturday 8:30 am to 12:00pm. For more information, please call our People First Call Center at 1-800-972-1651 or visit www.somersettrust.com.
About Somerset Trust Company
With a long history as a community bank, Somerset Trust Company is headquartered in
Somerset, Pennsylvania, and represents a network of over 40 branches throughout
Somerset, Cambria, Fayette, Westmoreland, and Bedford Counties in Pennsylvania, and Garrett and Allegany counties in Maryland. The bank has been independent and locally managed since its establishment in 1889, and is one of the last locally owned banks in the region. Today, Somerset Trust holds over $1.5 billion in assets and employs over 450 employees. In addition to consumer and commercial lending and deposit products, our bank offers Trust and Investment Management services, an extensive ATM network including fee free use of Sheetz ATMs, and award winning online and mobile banking for consumers and businesses. Somerset Trust is committed to providing excellent service and competitive products, as well as maintaining a high profile in the growth and economic development of the markets it serves.